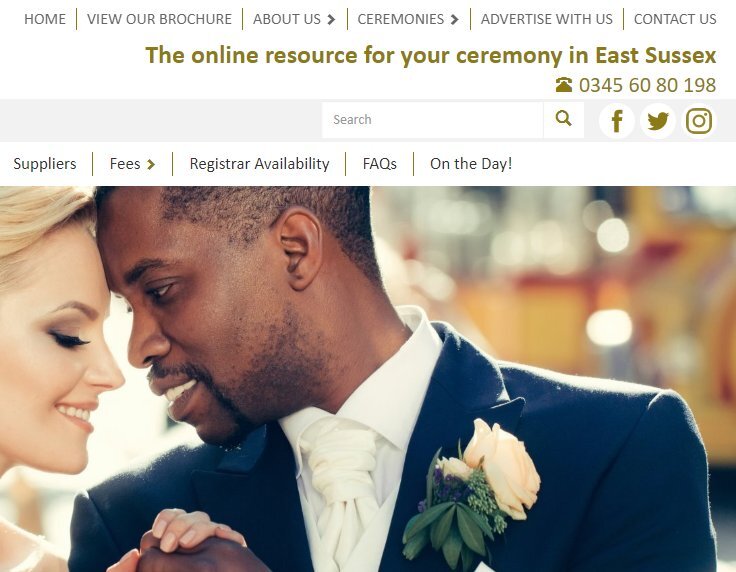 Case study:
East Sussex Registration Service
Destination Management website with custom subscription model
www.ceremoniesineastsussex.co.uk
With hundreds of high-quality venues and locations across East Sussex to choose from, many a frazzled bride or groom-to-be can struggle to choose the ones with every box they want ticked – and at a time when stress levels can already be riding high, having one single resource to make this search, compare and contact process easier can be a life saver. This was the challenge facing the East Sussex Registration Service, with hundreds of enquiries every day from members of the public seeking the perfect venue for their ceremony across this beautiful county, and the staff hours eaten up with this were becoming a drain on internal systems.
Working closely with the in-house team, we helped identify the key objectives for a new portal which provided all of the information and support to those seeking a ceremony venue, whilst taking the strain off the client's own internal processes and systems. The new website would give a single point of contact to access and view all potential venues and help the individual enquirer to refine their shortlist by personal preference, such as number of guests, parking facilities, overall budget – right down to whether the venue had a great view as a backdrop for the photos and and if they could bring their dog as the ring-bearer!
The site has proved to be increasingly popular with over 10,000 regular visitors and daily enquiries for the many venues and suppliers listed. In addition, having been designed from the ground up to be a scalable and sustainable model, we are already working with the client to further develop the site and include additional functionality to take even more of those repetitive and time-consuming tasks off their desk. This frees up time for their in-house team and helps the client to move forward with new initiatives designed to serve a wider audience of people without increasing demand and pressure on the existing staff.
"FAT interpreted the brief we gave them perfectly. We are delighted with the look and feel of the site and have had great feedback so far from our users and partner businesses. Thank you."

Anna Goddard – Superintendent Registrar and Ceremonies Manager